Meg April 2012 issue
06 Friday Apr 2012
It's officially summer and this getaway issue is packed with tips in budgeting, packing and traveling (with special someone, with friends, with family or alone). Gear yourself up with our cycles in exploring cultures, rest & relaxation, adventure tripper and travel special!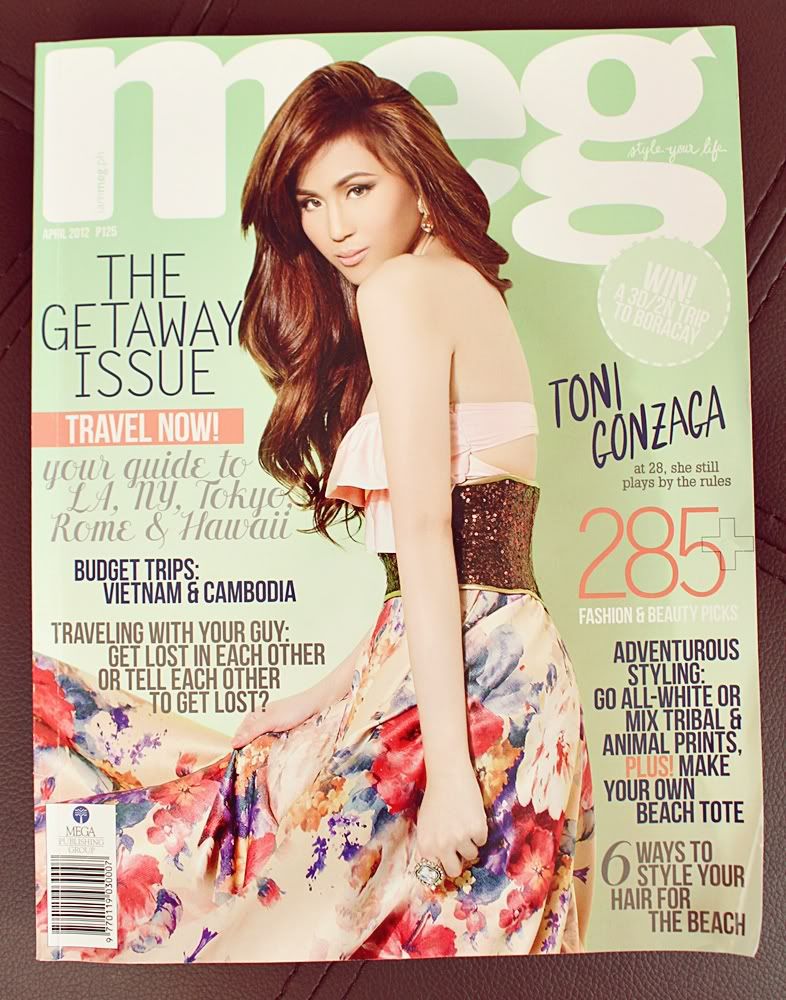 The Meg team and Mega Publishing Group list who made this issue possible.

Behind the scenes from Toni Gonzaga's covershoot! Makeup by Jigs Mayuga using MAC cosmetics, Hair by Macy Dionido and Photography by Sara Black
Special thanks to Mad Cow burgers for sponsoring our food and drinks
Thank you so much Bianca, Pol, Carla and Richard even though it was last-minute and the shoot was late in the evening. You guys will be featured in our June anniversary issue
Full force! This is the most complete our team has ever been in a cover shoot. From left to right: Me, Grace, Mica, Ega, Rain, Bianca, Toni, Jigs, Ning, Louise, Lea, Abi, Klara, Dazzle and oh no i forgot her name! Sorry
The covershoot ended way past midnight still the photos turned out pretty nice! And it was that morning and afternoon too when we had our situational shoot at Makati Shangri-la
I scored the team free buffet at the Circles and i think this was the smoothest and most successful shoot i have organized
yay!
The other cover options that didn't make it
Meg has come up with your ultimate guide to making most of your getaways. Plus we show you our most memorable vacays and travel must-haves!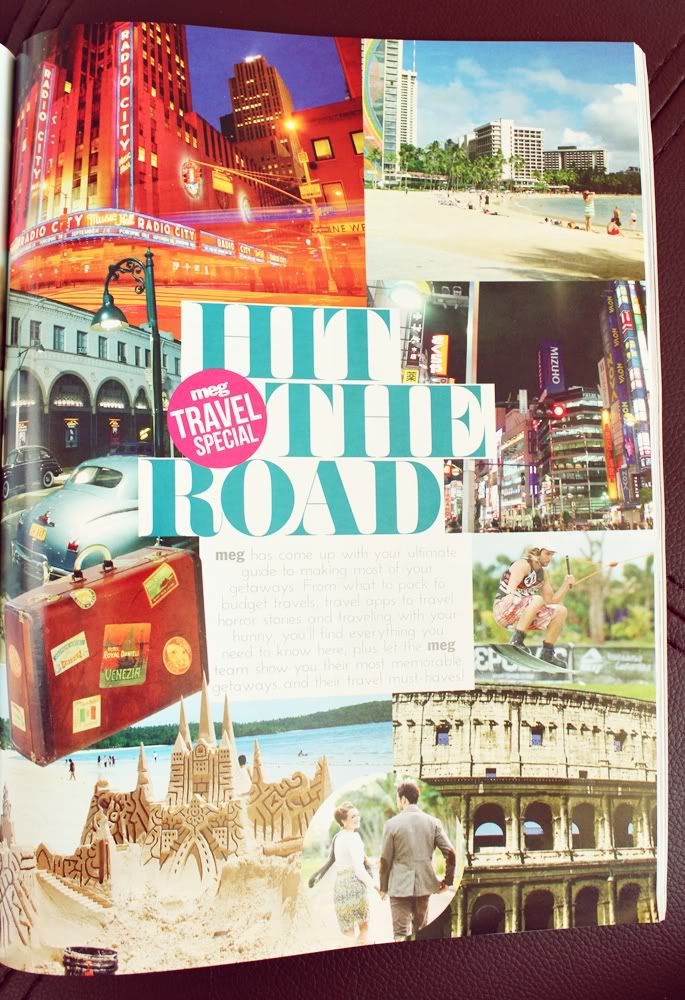 "I always blog my travel adventures in ekaiineuphoria.com, and i love how my Instax Polaroid camera can bring instant happiness in just one click. I bring it along together with my Moleskine journal to put my thoughts and feelings in tangible form."

Read my top five things to do at Tagaytay City, a perfect place where Filipinos go to for a quick and relaxing getaway from the city! Plus you get to see my sister's face (while we were trying to be adventurous souls) published first time on a magazine! I hope she won't kill me for this hahaha!
First, watch the sun rising at the lake. Second, enter a world of wanderlust. Third, get your adrenaline rush. Fourth, do some soul-searching. And fifth, Have that gastronomical satisfaction.

In this beauty editorial, international supermodel Danica Magpantay heads to the beach and shows how to wear the hottest hair trends from the spring/summer runways.

In this months's guy guide, Meg explores that love knows no boundaries and dating foreigners makes a good difference because you are being with someone you can learn a lot from. No matter what skin color, maturity level, sense of humor, race, religion or culture the bottom line is that it comes down on what you seek in a partner.

Chanel a light and easy tailored look this summer as inspired by the s/s 2012 collection of Tod's. I remember doing this kind of product shots in our studio that led me to buying the pieces!

In this fashion editorial, you can master the art of clashing techno tribal elements mixed with animal prints, bright pops of color and statement accessories.

Laureen is a young designer, entrepreneur, celebrity and blogger who is a proof that you have to work for your dreams in order to live them out. I love the style spotlight section but too bad because in this issue i wasn't able to assist L.A. nor raid Laureen's room
Patty Laurel has already traveled to 29 countries and she says that life experiences are priceless because you can never put a price tag on these precious moments. And in this article, she shares her personal lessons she has picked up form the years she has been traveling.

It is my passion and goal to travel the world and write about my adventures (in art, literature, food, shopping, people, places, culture and history). This travel issue personally inspired me to have a love affair with the world and to get lost just to find myself